---
As well as our fixed time-lapse systems for long duration projects, we also offer daily and short term time-lapse photography, in the same 4K quality. Short term time-lapse is usually used on projects that are only one or two days in length, or as a supplement to a long duration time-lapse system. Whether it's regular visits to the site for different angles of time-lapse photography, a specific day on site or an event that you want to capture, we can provide you with our reliable 4K time-lapse photography service.
What Do We Mean By Short Term Time-lapse?
With short term or daily time-lapse, a member of our team visits your site with a time-lapse system and uses this to record time-lapse footage of your site. As with all of our time-lapse systems, our short term systems are fully bespoke, so wherever your site and whatever your project, we can help. Learn more >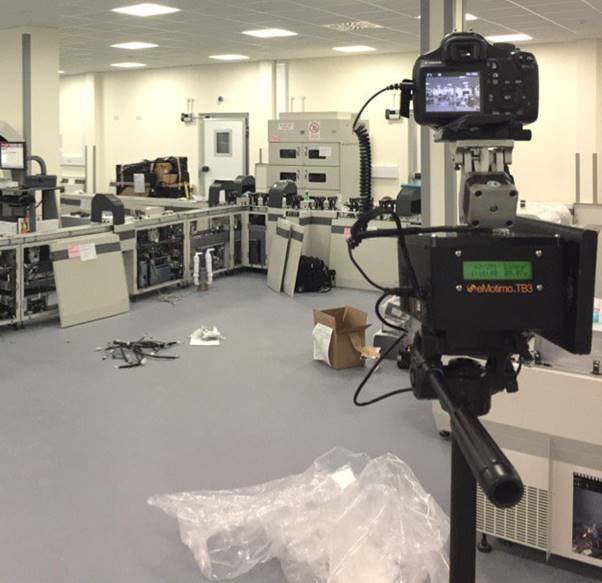 The system operator remains on site with the system all day, providing real-time on-site support and answering any questions you may have. They are able to adjust camera angles, change lenses or make any other adjustments that you may require as soon as a request is made. Unlike our long term time-lapse systems, which are usually fixed in place for the duration of the project and come with remote support, short term systems are usually mounted onto tripods and have an operator with them at all times, meaning they can easily be moved if required during the day.
If a project lasts a couple of days, the operator will visit site each day, recording footage. The camera can remain in situ overnight, or be removed and returned each day, whichever is your preference.
Once the time-lapse footage has been collected, it is processed and edited into a time-lapse film using our bespoke editing service, meaning we can add titles, captions and anything else you require, and you can be as involved or as hands off as you'd like. Learn more >
Please see the sections below for examples of where short term time-lapse systems can be useful, and contact us today if you'd like to hear more.
Short Term Time-lapse For Short Term Projects
Some projects or events only last a day or two. A good example of this is the Sutton Bathroom Pods project, where over the course of a single day, old bathroom pods were lifted out and new ones were installed. The client wanted to record this innovative process, and short term time-lapse was perfect for this. We also attended site to capture additional on-site filming and interviews for use in the final film.
Another example of an unusual build process that required recording was the Denmark Street Building Lift. Again, this project only lasted a single day, but the process was amazing. A listed Victorian Smithy in central London was underpinned, then lifted up and moved onto a temporary foundation, where it remained while a large substructure piling project progressed on site. This saved the Smithy. We were there to film the whole thing, from attaching the lift cables, to placing the Smithy on the temporary foundation, and our short term time-lapse system was perfect for the job, particularly when combined with additional on-site filming.
Denmark Street Building Lift
Short Term Time-lapse For Events
It's not just construction projects that can be recorded by time-lapse, but all sorts of other events as well, from music festivals and launch parties, to tree planting. Whatever your project, we have the skills and experience to capture it's magic for posterity! Our short term time-lapse cameras have been used to great effect in the example films below.
Secret Garden Party Music Festival
Humming Bird Motors Launch Party
Floating Cranberries at Hampton Court
Short Term Time-lapse to Capture Specific Aspects of a Project
Extra visits to capture specific aspects of a build in detail can provide added interest to a film, and we can do these on an ad hoc basis. It can be used to capture any novel or innovative aspects of the build, such as the building lift and bathroom pods shown in the films above, or to record jobs such as cladding or wrapping of a building that are completed in an single day. We've also used short term time-lapse to record overnight bridge moves.
Fosters Mill – Building Wrap
Ruckholt Road Footbridge Installation
Regular Short Term Time-lapse
Some customers choose to supplement their fixed long duration time-lapse camera with regular time-lapse visits, where one of our team visits the site at regular intervals with a short duration time-lapse system and recording whatever is going on. You can see some examples of this below and learn more here >
Short Term Time-Lapse for Wildlife
Another interesting use of short duration time-lapse is for capturing nature and wildlife. When on holiday a few years ago, I captured this gorgeous footage of zebra in Botswana!
Your Final Time-lapse Film
Once your filming is complete, your project editor will be in touch to discuss your needs for the final film. You can add captions, titles, logos and anything else you require. You may be as hands-on or as hands-off as you would like at this stage – some people like to be heavily involved, while others like to leave it to our experienced editors. Either way is fine, and either way will result in a stunning final film. In addition, if you have captured short term time-lapse as a supplement to long term time-lapse, we will combine the footage from the main camera with the extra footage to create an exciting and engaging final film. Learn more about our bespoke editing >
More Examples
You can view more of our short term time-lapse projects below, and can also visit our Vimeo page, YouTube channel or our Gallery section.
Not Quite Right?
If short term time-lapse is not quite what you are looking for, maybe our long term time-lapse systems might be more what you need? Learn more >
Or, maybe it's drone or aerial filming you are after? Learn more >
Or, perhaps film production? Learn more >
Get in Touch
Whatever your requirements, we'd love to hear from you and discuss how we could help with your project, so please contact us today!
hello@regenology.co.uk | 0151 3290 918