The  Battersea Gas Holders demolition is complete. After a 3 year project for National Grid, the ground has now been cleared by Coleman & Company, ready for the next stage of the project. "The gasholders site will be cleared to deliver new homes, making an important contribution to Nine Elms on the South Bank, an area earmarked by the Mayor of London to create 16,000 new homes and 25,000 new jobs by 2020."
There were four key elements to the work :
Dismantling the Gas Holders

Filling the voids left behind by the gas holders

Demolishing existing buildings

Environmentally improving the site
There is a lot of history behind these gas holders, they have been around since 1872, when the first one was constructed. The construction of the three gas holders went on until 1883. It wasn't until 1932, 60 years later, that the blue MAN holder was built. The name MAN comes from the German company that developed the design for the the blue gas holder, Maschinenfabrik Augsburg-Nürnberg.
The Battersea Gas Holders were built to store gas produced by the Nine Elms Gasworks, but today our gas is sourced from underground reserves across the world and stored in a pipe system, meaning that the Battersea Gas Holders became unused and therefore plans to demolish the Gas Holders and turn the area into 16,000 new homes and 25,000 new jobs by 2020 are in process.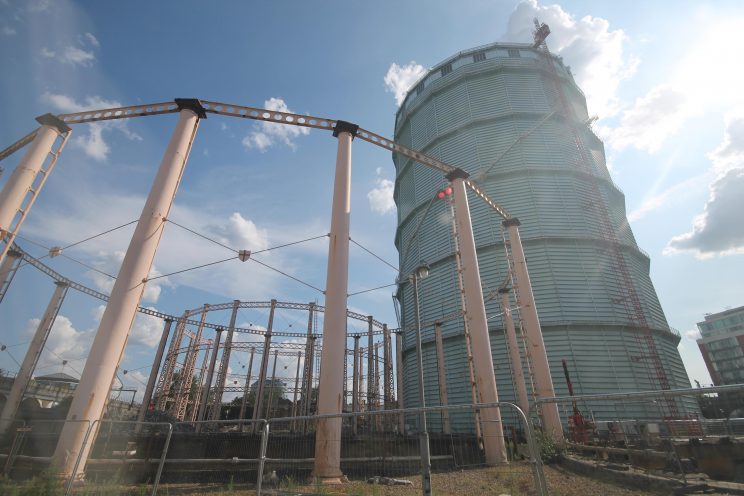 Having completed the demolition, the now cleared site will be handed over to National Grids development partner, St William, who will now take the project forward to deliver the thousands of new homes and jobs.
Another fantastic project that we we're delighted to Time Lapse and after 3 years of demolition, you can see the amazing results on the film below!
Battersea Gas Holders Demolition from Regenology on Vimeo.
Read more about our demolition time-lapse service.