Rhigos Substation
In 2015 ABB and Balfour Beatty Utility Servcies worked with the National Grid on an ambitious project to install the cable that links the wind farm to the power grid at Rhigos substation on the Hirwaun Industrial Estate in Wales.
It proved a challenging engineering problem. To protect a major road passing underneath, the team built the largest scaffolding and netting in the history of National Grid.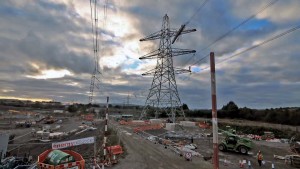 The full Rhigos substation project, including the transfer of the cable from temporary to new pylon was recorded by Regenology. Regenology installed a long-term time-lapse camera on the site, where it remained for the whole project. The live link was used by engineers and management from National Grid to monitor the progress of the pylon construction. The final edited film provided an invaluable training video tool for staff.
Please follow us on Twitter to keep up to date with our latest news and contact us if you have any questions..